J & G Septic Services

540-671-3960

Your Premier Fauquier, Fairfax, and Stafford County Septic Service.

We also pride ourselves in serving Prince William County, and Culpeper County.



Professional, knowledgeable, and always available 24 hours, 7 days a week. We are there for you whenever you need us.
Licensed, Insured, and Bonded
Hydro Jetting uses high pressure water to clean the interiors of plumbing. This process can remove, scale, grease, debris, tree roots, and much more that has built up over time in your pipes. Hydro-jetting comprehensively cleans pipe with out damage to the pipe.
This works by a hose that can with stand high pressure, is connected to a tank of water that is pressurized by a special machine. The technician uses gravity and moves the hose down the pipe removing all debris and washing it out of the system as it was supposed to be.
Hydro-jetting can resolve mulitiple issues around your home and business. This is a major tool for cleaning restaurant grease traps and lines.
This process can remove residues from soap, hair, grease, food debris and non-flushable items from a locations plumbing.
Hydro-jetting can also be an integral part in treating root infiltration , mineral, and scale build up in sewer drains and septic pipes.
This needs to be done by a trained professional. The technician will most likely camera the line first and decide the method of treatment after, receiving video confirmation of a blockage.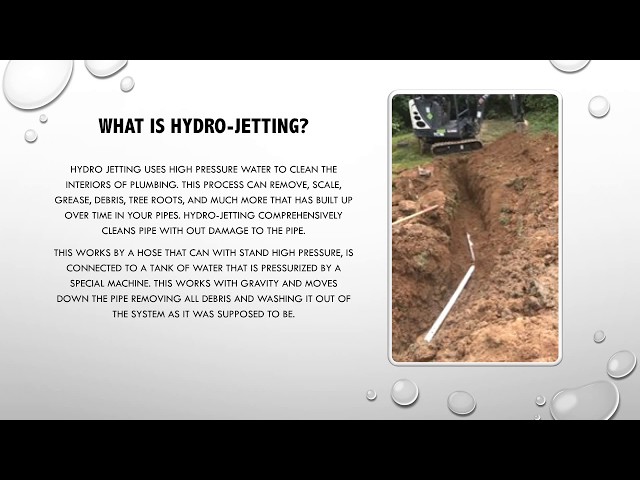 Root infiltration is a major problem with septic systems. Tree or shrub roots can infiltrate and damage major components of your system. Nothing should EVER be planted on your system drainfield or components, keep all landscaping far away from your septic system. We use specialized tools to remove roots from septic system plumbing. These tools cannot be used if the infiltration is past a certain point and the component now requires replacing. Septic inspections every 3-4 years are a good idea to make sure there is no system issues underground.

How do you determine system clogs or root infiltration with a septic camera of course! Our septic technicians use cameras during inspections, system diagnosis, and troubleshooting. This is the best way to have our techs and our clients see the physical damage they or someone else can do to a system. In inspection this at times can determine if repairs are need to system components not see by excavation. Call us today for all your camera service needs.

0

/